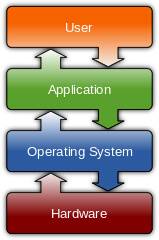 The Operating System is the logical heart any computer. It enables you to connect and use the physical components of the machine at maximum potential. But when the Operating System is damaged or corrupt things start to move slow and productivity decreases. These situations can have different causes, from virus infection, corrupt or poorly created applications to just plain bad configurations.
Depending on the cause and gravity of the problem some of these can be easily fixed, but sometimes a clean reinstallation of the Operating System is necessary in order to reach the maximum performance of your hardware.
Computers Unlimited can reinstall any version of any operating system available on the market, including but not limited to:
Microsoft Windows
Apple Mac OS X
UNIX/Linux (any distro)
SteamOS
Chrome OS
We also identify the correct drivers or libraries needed for your hardware, install and configure them correctly. We can also reinstall the software you`re used to using so you can get back to work, playing or relaxing as soon as you get your computer back.